Post by Master Kim on Mar 1, 2015 18:42:52 GMT -5
Cystic fibrosis -
en.wikipedia.org/wiki/Cystic_fibrosis
Cystic fibrosis (CF), also known as mucoviscidosis, is a genetic disorder that affects mostly the lungs but also the pancreas, liver, kidneys and intestine. Long-term issues include difficulty breathing and coughing up sputum as a result of frequent lung infections. Other symptoms include sinus infections, poor growth, fatty stool, clubbing of the finger and toes, and infertility in males among others. Different people may have different degrees of symptoms.
CF is an autosomal recessive disorder. It is caused by the presence of mutations in both copies of the gene for the protein cystic fibrosis transmembrane conductance regulator (CFTR). Those with a single working copy are carriers and otherwise mostly normal. CFTR is involved in production of sweat, digestive fluids, and mucus. When not functional usually thin secretions become thick. The condition is diagnosed by a sweat test and genetic testing. Screening of infants at birth take place in some areas of the world.
There is no cure for cystic fibrosis. Lung infections are treated with antibiotics which may be given intravenously, inhaled, or by mouth. Sometimes the antibiotic azithromycin is used long term. Inhaled hypertonic saline and salbutamol may also be useful. Lung transplantation may be an option if lung function continues to worsen. Pancreatic enzyme replacement and fat soluble vitamin supplementation are important, especially in the young. While not well supported by evidence, many people use airway clearance techniques such as chest physiotherapy. The average life expectancy is between 37 and 50 years in the developed world. Lung problems are responsible for death in 80% of people.
CF is most common among people of Northern European ancestry and affects about one out of every three thousand newborns. About one in twenty five are carriers. It is least common in Africans and Asians. It was first recognized as a specific disease by Dorothy Andersen in 1938, with descriptions that fit the condition occurring at least as far back as 1595.[2] The name cystic fibrosis refers to the characteristic fibrosis and cysts that form within the pancreas.
Health problems associated with cystic fibrosis Cystic fibrosis has an autosomal recessive pattern of inheritanceSigns and symptoms
Signs and symptoms
The main signs and symptoms of cystic fibrosis are salty-tasting skin, poor growth, and poor weight gain despite normal food intake, accumulation of thick, sticky mucus, frequent chest infections, and coughing or shortness of breath. Males can be infertile due to congenital absence of the vas deferens. Symptoms often appear in infancy and childhood, such as bowel obstruction due to meconium ileus in newborn babies. As the children grow, they must exercise to release mucus in the alveoli. Ciliated epithelial cells in the person have a mutated protein that leads to abnormally viscous mucus production. The poor growth in children typically presents as an inability to gain weight or height at the same rate as their peers and is occasionally not diagnosed until investigation is initiated for poor growth. The causes of growth failure are multifactorial and include chronic lung infection, poor absorption of nutrients through the gastrointestinal tract, and increased metabolic demand due to chronic illness.
In rare cases, cystic fibrosis can manifest itself as a coagulation disorder. Vitamin K is normally absorbed from breast milk, formula, and later, solid foods. This absorption is impaired in some cystic fibrosis patients. Young children are especially sensitive to vitamin K malabsorptive disorders because only a very small amount of vitamin K crosses the placenta, leaving the child with very low reserves and limited ability to absorb vitamin K from dietary sources after birth. Because factors II, VII, IX, and X (clotting factors) are vitamin K–dependent, low levels of vitamin K can result in coagulation problems. Consequently, when a child presents with unexplained bruising, a coagulation evaluation may be warranted to determine whether there is an underlying disease.
Lungs and sinuses
Lung disease results from clogging of the airways due to mucus build-up, decreased mucociliary clearance, and resulting inflammation. Inflammation and infection cause injury and structural changes to the lungs, leading to a variety of symptoms. In the early stages, incessant coughing, copious phlegm production, and decreased ability to exercise are common. Many of these symptoms occur when bacteria that normally inhabit the thick mucus grow out of control and cause pneumonia. In later stages, changes in the architecture of the lung, such as pathology in the major airways (bronchiectasis), further exacerbate difficulties in breathing. Other symptoms include coughing up blood (hemoptysis), high blood pressure in the lung (pulmonary hypertension), heart failure, difficulties getting enough oxygen to the body (hypoxia), and respiratory failure requiring support with breathing masks, such as bilevel positive airway pressure machines or ventilators. Staphylococcus aureus, Haemophilus influenzae, and Pseudomonas aeruginosa are the three most common organisms causing lung infections in CF patients. In addition to typical bacterial infections, people with CF more commonly develop other types of lung disease. Among these is allergic bronchopulmonary aspergillosis, in which the body's response to the common fungus Aspergillus fumigatus causes worsening of breathing problems. Another is infection with Mycobacterium avium complex (MAC), a group of bacteria related to tuberculosis, which can cause a lot of lung damage and does not respond to common antibiotics.
Mucus in the paranasal sinuses is equally thick and may also cause blockage of the sinus passages, leading to infection. This may cause facial pain, fever, nasal drainage, and headaches. Individuals with CF may develop overgrowth of the nasal tissue (nasal polyps) due to inflammation from chronic sinus infections. Recurrent sinonasal polyps can occur in as many as 10% to 25% of CF patients.[17] These polyps can block the nasal passages and increase breathing difficulties.
Cardiorespiratory complications are the most common cause of death (~80%) in patients at most CF centers in the United States.
Gastrointestinal
Prior to prenatal and newborn screening, cystic fibrosis was often diagnosed when a newborn infant failed to pass feces (meconium). Meconium may completely block the intestines and cause serious illness. This condition, called meconium ileus, occurs in 5–10% of newborns with CF. In addition, protrusion of internal rectal membranes (rectal prolapse) is more common, occurring in as many as 10% of children with CF, and it is caused by increased fecal volume, malnutrition, and increased intra–abdominal pressure due to coughing.
The thick mucus seen in the lungs has a counterpart in thickened secretions from the pancreas, an organ responsible for providing digestive juices that help break down food. These secretions block the exocrine movement of the digestive enzymes into the duodenum and result in irreversible damage to the pancreas, often with painful inflammation (pancreatitis). The pancreatic ducts are totally plugged in more advanced cases, usually seen in older children or adolescents. This causes atrophy of the exocrine glands and progressive fibrosis.
The lack of digestive enzymes leads to difficulty absorbing nutrients with their subsequent excretion in the feces, a disorder known as malabsorption. Malabsorption leads to malnutrition and poor growth and development because of calorie loss. Resultant hypoproteinemia may be severe enough to cause generalized edema. Individuals with CF also have difficulties absorbing the fat-soluble vitamins A, D, E, and K.
In addition to the pancreas problems, people with cystic fibrosis experience more heartburn, intestinal blockage by intussusception, and constipation. Older individuals with CF may develop distal intestinal obstruction syndrome when thickened feces cause intestinal blockage.
Exocrine pancreatic insufficiency occurs in the majority (85% to 90%) of patients with CF. It is mainly associated with "severe" CFTR mutations, where both alleles are completely nonfunctional (e.g. ΔF508/ΔF508). It occurs in 10% to 15% of patients with one "severe" and one "mild" CFTR mutation where there still is a little CFTR activity, or where there are two "mild" CFTR mutations. In these milder cases, there is still sufficient pancreatic exocrine function so that enzyme supplementation is not required. There are usually no other GI complications in pancreas-sufficient phenotypes, and in general, such individuals usually have excellent growth and development. Despite this, idiopathic chronic pancreatitis can occur in a subset of pancreas-sufficient individuals with CF, and is associated with recurrent abdominal pain and life-threatening complications.
Thickened secretions also may cause liver problems in patients with CF. Bile secreted by the liver to aid in digestion may block the bile ducts, leading to liver damage. Over time, this can lead to scarring and nodularity (cirrhosis). The liver fails to rid the blood of toxins and does not make important proteins, such as those responsible for blood clotting.[28][29] Liver disease is the third most common cause of death associated with CF.
Endocrine
The pancreas contains the islets of Langerhans, which are responsible for making insulin, a hormone that helps regulate blood glucose. Damage of the pancreas can lead to loss of the islet cells, leading to a type of diabetes that is unique to those with the disease. This cystic fibrosis-related diabetes (CFRD) shares characteristics that can be found in type 1 and type 2 diabetics, and is one of the principal nonpulmonary complications of CF. Vitamin D is involved in calcium and phosphate regulation. Poor uptake of vitamin D from the diet because of malabsorption can lead to the bone disease osteoporosis in which weakened bones are more susceptible to fractures. In addition, people with CF often develop clubbing of their fingers and toes due to the effects of chronic illness and low oxygen in their tissues.
Infertility
Infertility affects both men and women. At least 97% of men with cystic fibrosis are infertile, but not sterile and can have children with assisted reproductive techniques. The main cause of infertility in men with cystic fibrosis is congenital absence of the vas deferens (which normally connects the testes to the ejaculatory ducts of the penis), but potentially also by other mechanisms such as causing no sperm, teratospermia, and few sperm with poor motility. Many men found to have congenital absence of the vas deferens during evaluation for infertility have a mild, previously undiagnosed form of CF. Approximately 20% of women with CF have fertility difficulties due to thickened cervical mucus or malnutrition. In severe cases, malnutrition disrupts ovulation and causes amenorrhea.
Chile president visits girl with cystic fibrosis who posted euthanasia video -
www.theguardian.com/world/2015/mar/01/chile-president-michelle-bachelet-valentina-maureira-cystic-fibrosis-euthanasia-video
Saturday 28 February 2015 19.17 EST - The Guardian

Michelle Bachelet talks to Valentina Maureira in hospital for more than an hour, but does not grant her wish to 'get a shot that will make me sleep forever'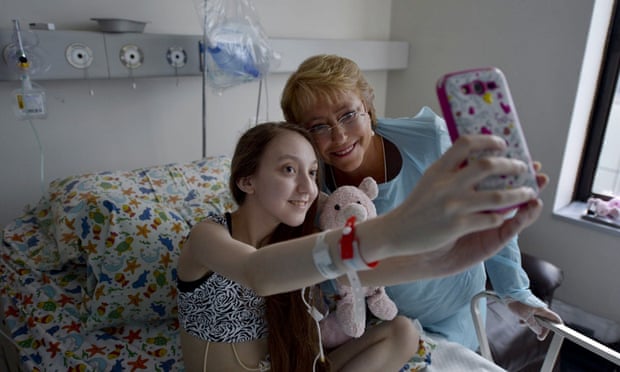 Michelle Bachelet, right, poses for a selfie with Valentina Maureira on Saturday. Photograph: uncredit/AP
Chile's president has visited a hospital to meet with a 14-year-old girl who shocked the country by pleading on YouTube for the leader to let doctors euthanise her because she was tired of her struggle with cystic fibrosis.
The government quickly said no after the video began spreading on social media on Thursday.
A government statement said president Michelle Bachelet talked with Valentina Maureira and her father for more than an hour at the Catholic university hospital in Santiago.
Chile's president 'overcome by emotion' after ill girl, 14, makes euthanasia plea
Read more
Officials did not release any information on what was said. But the government provided photographs of the visit, including one of Valentina taking a selfie with the president, who is also a pediatrician.
Valentina grabbed the spotlight after posting on YouTube a video that appeared to have been shot from a hospital bed.
"I urgently request to speak to the president because I'm tired of living with this illness," said the teenager, whose older brother died at the age of six from the same disease. "I want her approval so I can get a shot that will make me sleep forever."
Cystic fibrosis damages multiple organs, especially the lungs, by causing recurrent infections that damage tissue. Valentina said she was frustrated by the lack of options and by how the disease had hurt her quality of life.
On Thursday, presidential spokesman Álvaro Elizalde expressed sympathy for Valentina's plight, but stressed that Chilean law does not allow euthanasia.
"It's impossible not to be overcome by emotion with the girl's request; it's impossible to grant her wish," Elizalde said.
In an interview with the Associated Press on Thursday, the girl's father, Fredy Maureira, said he supported his daughter's request, though he added that he "cried through the night" after he first heard about her wish to die.
"This is so tough, but I have to respect her decision because she's the one who's suffering this illness," Maureira said.
Based on Ascetic Saahm's formula #1, fostering large intestine and lung, subdue ST41, SP2, KI2, GB38 and LR2.